How was your last CPE class?
Posted by
briggsie
on Sun, 06/23/2013 - 11:20
742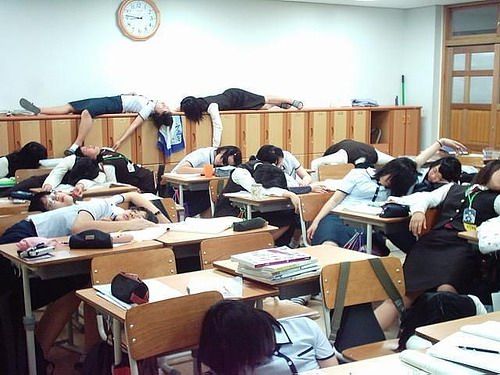 It's that time of year again….CPE
Does this picture remind you of the last CPE class you attended? I always have difficulty staying awake during an eight hour CPE marathon. I guess I should break down and buy a cell phone, or bring a newspaper to the CPE class and read it to stay awake, but since these CPE classes cost me several hundred dollars, I feel that I would be screwing myself by not trying to learn something from them. Needless to say, I learn very little while attending them.
Here in Connecticut, you are placed in a large room with hundreds of other CPAs, are given very technical material of hundreds of pages, and are expected to absorb its contents in 50 minutes. I must be retarded because while I am still on page 3 in the course manual, the instructor and the class are on page 30. I suspect Evelyn Wood is a myth like Dale Carnegie. I never won any friends and influenced people reading his books: I just got fleeced.
And don't you just love those online CPE courses where you are given 538 pages of material but only earn eight measely credits for reading them? Do CPAs actually read those 538 pages, or do they look at the exam questions and scan the material for the answers?
Maybe it's time to rethink the CPE requirement. We all spend hours researching tax and auditing issues. We subscribe to tax books and attest reference materials. What about all those countless hours devoted to researching technical questions our clients present? Don't those many hours constitute legitimate continuing education?
My proposal is to do away with a requirement largely benefitting the sponsors of these courses. If we as CPAs are not conducting continuing education as part of our profession, let's face it, we won't be in business for long: either we will be sued for negligence or our clients will think we are kluzes.
There's nothing dumber than paying hundreds and hundreds of dollars every year for courses where, frankly, we learn little, if anything.
Voice

of the Editor
Hi. I'm Caleb and I'm new around here.

Which isn't completely true. I mean, occasionally I drop by when I manage to sneak out of the nonstop frat party over at Going Concern, but I'm mostly a wallflower over there. I'm happy to say that I've been given express permission (or explicit orders, if you like) to wander over here to AccountingWEB more often.

Why is that, you might ask? My job is to replace the irreplaceable Gail Perry as Editor-in-Chief. What does that mean? I don't really know! I think it'll be fun getting a feel for things, throwing in my own thoughts here and there, and listening to the discussions you're having about the accounting profession.