A little boy's letter to God....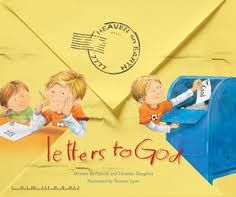 A little boy wanted $100 to buy a bicycle. Since his parents were poor and unable to afford the money, being a very good little boy who always went to church on Sundays and prayed every morning and night, he decided to go to the head Man directly (no, not Ben Bernanke but the Guy above him).
So he wrote a letter to God, asking for $100 so that he could buy the bicycle; however, not knowing God's address, all he placed on the envelope for an address was the following:
God
USA
When the postal clerk received the envelope, not knowing where else to send it, she dumped it in the outgoing mail to the US government.  And when the government mail room received it, again not having a clue as to where it should go, it forwarded the envelope to President Obama since he was the head of the government and the closest person to God.
Upon receiving and reading the little boy's letter, being a father, and both amused and touched by the child's request, President Obama put a $5 bill in an envelope and mailed it to the little boy.
When the little boy received the money, he was understandably disappointed since it was not enough money to buy the bicycle. Determined to buy that bicycle, he put pen to paper and wrote another letter to God, asking for the remaining $95, but he did not hesitate to offer the following advice to God:
"Dear, God, this time please do not send the money from Washington, D.C., because the last time you sent me the $100 from there, those crooks at the Internal Revenue Service withheld $95 for income taxes."
This blog
The Barefoot Accountant—is a Certified Public Accountant, Certified QuickBooks ProAdvisor, operating an accounting, tax, and QuickBooks consulting firm in Berlin, Connecticut, Accountants CPA Hartford, Connecticut, LLC. Bill has instructed graduate and undergraduate courses in Accounting, Auditing, and other subjects at the University of Hartford, Central Connecticut State University, Hartford State Technical College, and Purdue University. He also taught GMAT and CPA Exam Review Classes at the Stanley H. Kaplan Educational Center and at Person-Wolinsky, and is certified to teach trade-related subjects at Connecticut Vocational Technical Schools. His articles on tax and accounting have been published in several professional journals as well as on several accounting websites. William was born and raised in New Britain, Connecticut, and served on the City's Board of Finance and Taxation as well as its City Plan Commission. Bill is a crazed animal lover, feeding birds, squirrels, chipmunks, skunks, possums, stray cats, and any two-legged or four-legged critter traversing through his yard. His backyard in Berlin, Connecticut has been certified as a habitat suitable for wildlife by the National Wildlife Federation.
Bill also writes an Accounting, QuickBooks, and Tax blog: Accounting, QuickBooks, and Taxes by the Barefoot Accountant. For entertaining articles, please see his listing at The Amazing Brighenti.