Is Intuit committed to quality products and service?
I have written a number of blogs raising questions about Intuit's commitment to quality products and services as well as its regard and treatment of professional accountants.  Regarding a recent problem that I had with ProSeries, I am adding this blog postscript as an example evidencing the quality of service one can expect from Intuit.
Below is a survey provided by Intuit on the Intuit Community webpage.  Customarily, after I had occasion to call customer service or technical support regarding an issue, I receive an email asking for feedback on my experience; I have filled out a number of them.  Of course, these surveys create the impression that Intuit is interested in one's opinion, and that Intuit actually reads the surveys asking about the experience of the users of its products.
However, reading the second question and the choices provided as responses to address the second question, one can see that the answers are not applicable to the survey question:
"Do you still need help with your question?"
Answer choice 1:  "Easy"
Answer choice 2:  "Difficult"
Answer choice 3:  "Not sure"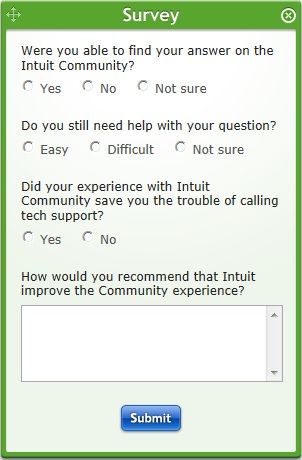 Did anyone at Intuit bother to read its own surveys prior to publishing them?  If Intuit does not bother to read its own surveys prior to publishing them, can one expect Intuit to read one's answers to its surveys?  And doesn't this tell one something in and of itself about Intuit's commitment to quality products and services?
Is Intuit truly committed to providing quality products and services to professional accountants?
This blog
The Barefoot Accountant—is a Certified Public Accountant, Certified QuickBooks ProAdvisor, operating an accounting, tax, and QuickBooks consulting firm in Berlin, Connecticut, Accountants CPA Hartford, Connecticut, LLC. Bill has instructed graduate and undergraduate courses in Accounting, Auditing, and other subjects at the University of Hartford, Central Connecticut State University, Hartford State Technical College, and Purdue University. He also taught GMAT and CPA Exam Review Classes at the Stanley H. Kaplan Educational Center and at Person-Wolinsky, and is certified to teach trade-related subjects at Connecticut Vocational Technical Schools. His articles on tax and accounting have been published in several professional journals as well as on several accounting websites. William was born and raised in New Britain, Connecticut, and served on the City's Board of Finance and Taxation as well as its City Plan Commission. Bill is a crazed animal lover, feeding birds, squirrels, chipmunks, skunks, possums, stray cats, and any two-legged or four-legged critter traversing through his yard. His backyard in Berlin, Connecticut has been certified as a habitat suitable for wildlife by the National Wildlife Federation.
Bill also writes an Accounting, QuickBooks, and Tax blog: Accounting, QuickBooks, and Taxes by the Barefoot Accountant. For entertaining articles, please see his listing at The Amazing Brighenti.